Butter Chicken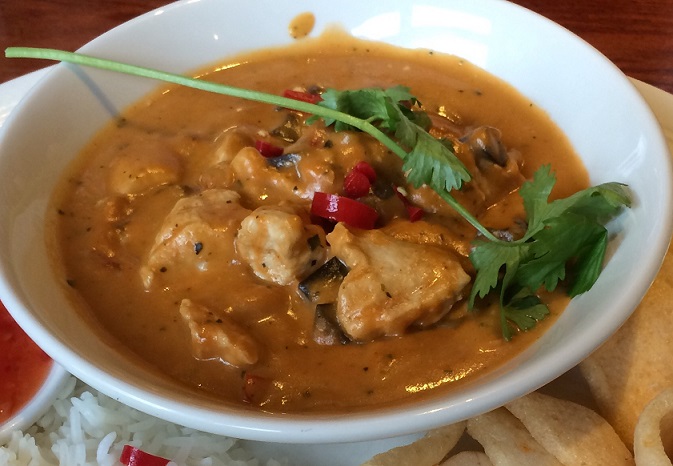 An amazing rich Indian meal!
Ingredients
1 Tray of boneless chicken breast (5 pieces)
2 Large onions
1 Peice of ginger
1 Clove of garlic
Garlic paste
Ginger paste
Green chillies
Red chilli powder
Cooking oil
Cooking cream
20g Butter
1/2 Cups of plain yogert
1 Tea spoon of tumeric powder
1 Tea spoon of garam masala
1 Red bell pepper (optional)
Salt to taste
Steps
Cut up the washed chicken breats into small cubes (Make sure it is well drained)
Put the chicken into a bowl (for marination)
Add 2 table spoons of the yogert
Add red chilli powder
Add gharam masala
Add 1 table spoon of garlic paste
Add 1 table spoon of ginger paste
Stir these ingredients together and then refrigerate for 2 hours!
Put stove on medium-high
Add cooking oil and butter to sauce pan
Add the green chillies, onions, ginger and garlic into a cooking blender and let the ingredients mush into tiny peices
Add the ingreients from the blender into saucepan
Stir ingredients until they are golden
Add chicken marination from bowl into saucepn
Add salt and tumeric powder
Stir and let the chicken become cooked
Grind the tomatoes and add them into saucepan
Put the heat on low
Cover the saucepan with lid
Let the ingredients cook for 5-10 minutes (stir occaionally)
When chicken is fully cooked, add cooking cream
Stir cream and cover the saucepan with lid for 5 minutes, then you are ready to surve!
About the meal
I love making butter chicken! I do not make it too often as it is a heavy meal, but when I do, my whole family rushes to the table! A very rich and creamy Indian meal, I hope you all try it out and enjoy! This is my favorite recipe!