Spice Cheese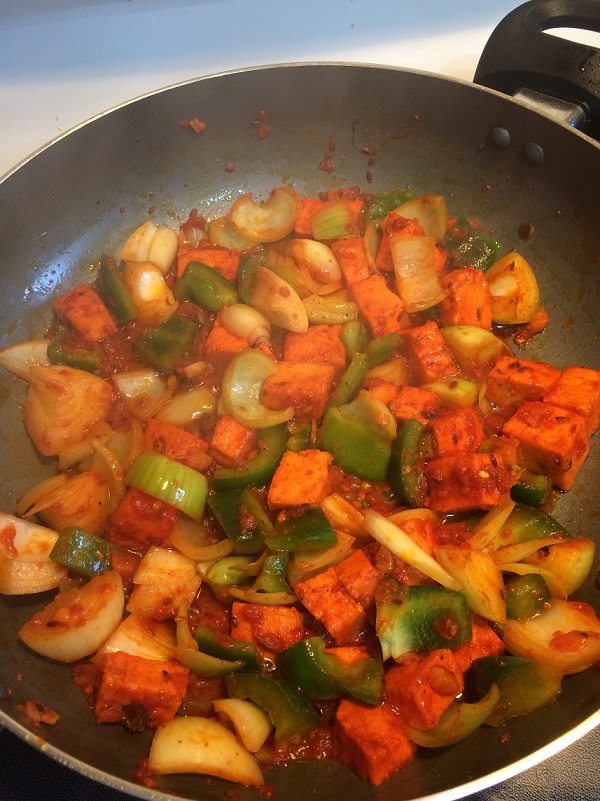 A delicious Indian/Chinese meal!
Ingredients
Packet of cheese (Paneer)
Green bell pepper
Garlic
Ginger
Onion
Green chillies
Tandoori spice
Salt to taste
Cooking oil
Cumin seeds
Tomatoe paste
Steps
Cut up the cheese into small cubes
Cut garlic into small pieces
Cut ginger into small pieces
Cut green chillies into small pieces
Cut onion into dices
Cut the bell pepper into dices
Turn on stove to medium heat and add cooking oil to frying pan
Add cumin seeds and let sizzle
Add ginger, garlic and green chillies to oil
After ingredients are golden, add onions
Stir onions with the ingredients until onions start to soften
Add tomatoe paste
Add cheese
Add tandoori spice
Add salt
Add bell pepper
Stir everything together
Put gas on low
Close lid and let ingredients cook for 5 minutes
About the meal
My mother would always cook cheese for me and my younger brother when we would come home from school when we were younger. As I grew older I began loving spicy food more and more, so I began cooking this recipe! My family loves it, children and adults! You can adjust the spice to your liking. I hope you try it as well! The meals main ingredient is deep fried cottage cheese cubes and is perfect for a family gathering! You can eat this meal with naan bread or salad as a side dish! You can even put it in a wrap and take it for the go! This yummy traditional Indian dish is vegetarian and easy to make! The ingredients are very affordable!